Photo Studio is the freemium version of Photo Studio Pro, a robust and feature-rich image editing tool on Android. Like it's paid version it lets you add filters, frames, create collages, add stickers, effects and even sketches. Many of the premium effects are free to preview, however, require upgrading to apply them. Let's determine whether you would download this freebie or skip right to the premium version in this article!
When you launch Photo Studio you can Browse photos on your device for editing or take one with the Camera, even use the separate PicFrames and Collage features, or visit the Add-on center.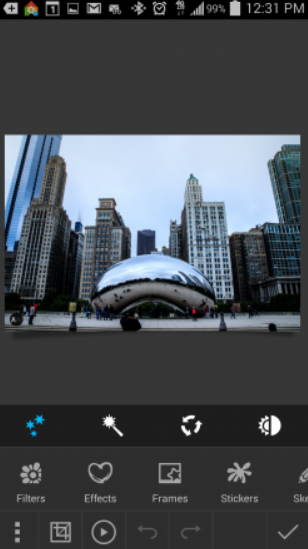 You'll probably spend most of your time in the Browse interface which is equipped with a lot of features. There you have four main photo editing features; Filters, Magic Effects, Cropping and Image controls. The filters tab houses a wealth of photo filters, photo effects (like lens flares & old film), frames, stickers, hand-drawn sketch effects, color saturation effects or write text on your photos. Magic Effects feature fancy Lens Boost (for creating tilt shift effects), auto-levels, cloning and red eye removal. Of course cropping offers options for clipping photos in various aspect ratios (even if you need to create a square photo for Instagram). Then there are image controls for brightness, contrast, sharpen, hue & saturation, blur and more. However, the only caveat with this app is that it will show filters and effects- even allow you to preview your photo with them yet you cannot apply them unless you upgrade to the Pro version.
A convenient and awesome feature is called 'Action Sets'. Similar to Photoshop on the desktop you can record various filters and effects you apply to one image into a collection preset. Then apply this Action Set to other photos- saving time. Once you have applied your effect(s) you can opt to save in various quality sizes; small, normal, large and max sizes.
The other two sub-components are PicFrames and Collage. These have a similar interface once entered but have the feel of separate applications… now wrapped into Photo Studio. PicFrames are as you would have expected, an app to allow you to create grid photos in various preset shapes. The Collage feature is self explanatory with options to customize the background, rotate photos and send over to the studio for filters and effects. For both features in this app there are only a handful unlocked, an upgrade unleashes them all. Lastly, there is an Add-on component to manage and/or download extra content for filters, effects, frames, stickers, etc.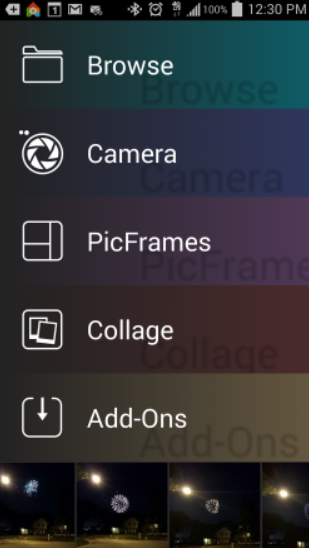 Our only gripe in past versions of this app was with the slightly dated look of the overall interface, this has been resolved here. However, it could greatly benefit from centralized navigation. The start screen is difficult to reach at times and does not seem like it flows with the rest of the application's components.
Photo Studio is a feature rich application even if some of the many options are locked. You can certainly get effective use and create something awesome with this app without the need to upgrade. With this free version you can apply filters, effects, frames, or create picframes & collages of your photos and send or share on social media. If, however, you would like unlimited access to all features you can download the Pro version.